CITY PROJECTS
Technologies and systems that make cities better for people:
The New Wave
Putting the human interface for urban tech into the public realm, with sidewalk hailing infrastructure for autonomous vehicles.
CHALLENGE
Anchor a new innovation district for Melbourne, Australia with autonomous vehicle technology.
PROJECT
The New Wave, an intuitive sidewalk hailing system for a public-private autonomous vehicle fleet that creates public transit — while improving urban form at the street level.
DETAILS
Massachusetts Institute of Technology (MIT)
Digital City Design Workshop with MIT Senseable City Lab
Carlo Ratti, Ricardo Felix and Newsha Ghaeli, instructors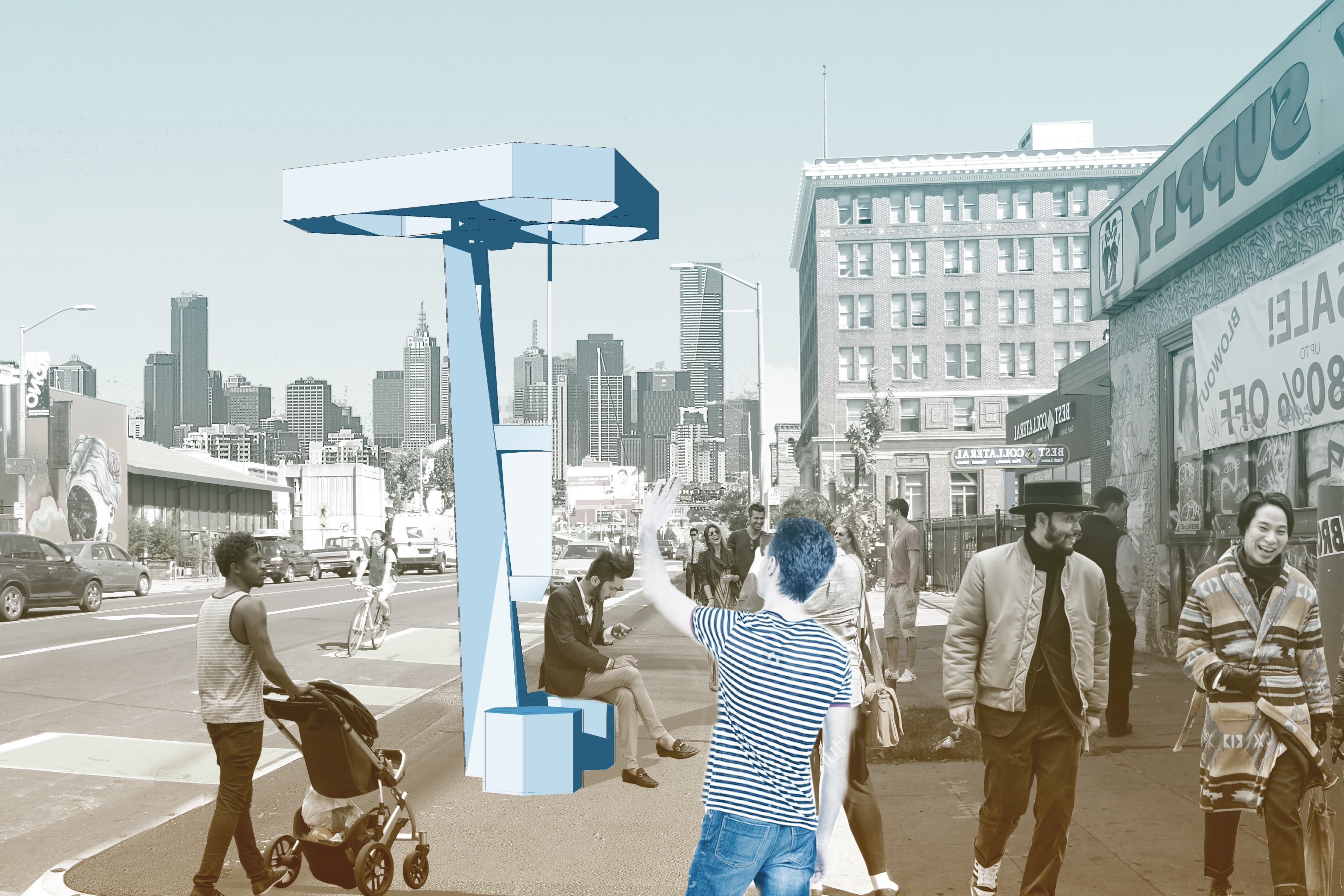 The New Wave consists of three components: a modular sidewalk platform that enables hailing through human gestures, a public-private AV fleet and a coordinating logic for routing. The New Wave begins as a cost-effective interim solution, but scales to reconfigure urban form.
The New Wave democratizes the interaction between people and autonomous vehicles, by creating public space for currently privatized services. A shift in perception around autonomous vehicles is accompanied by their integration into public transit, leading to new form factors and organizational structures.
The system leverages a suite of fused sensors: computer vision from an IR camera to identify users, load cells to verify seating, wireless device sensors and protocols for detection and payment. On the kiosk, illumination design and a touchscreen offer visual feedback.
Project completed as part of the
MIT Senseable City Lab's
partnership with Melbourne and the state of Victoria. Prototyping extended to simple CV studies of gesture recognition with a Kinect sensor.
As easy as it used to be
Tasked with exploring possibilities for autonomous vehicles in Melbourne's new innovation district, Fishermans Bend, I began with a desire to simplify the process of hailing vehicles. Ride-sharing apps allow access from just about anywhere, but the act of using those apps can be difficult. How might autonomous vehicels help us go back to an age of hand gestures and a well-timed whistle?
Solving a problem on the ground
A site visit to Melbourne, coupled with previous analysis, also revealed an urgent need for improved public transportation. While bus and streetcars lines adequately serve most of the city, Fishermans Bend itself was a conspicious transit desert. How might autonomous vehicles help provide public transit for workers and residents of Fishermans Bend?
While Fishermans Bend is a reclaimed industrial site with wide streets and lots of parking, I observed that much of Melbourne's urban "livability" stemmed from exciting intersections of public transit, pedestrian sidewalks and dynamic storefronts; these ranged from open plaza configurations to tight lanways. How might automobile-centric transit systems in Fishermans Bend preserve or even inspire these kinds of urban activities?
Putting interaction on the sidewalk
By partially deploying autonomous vehicle technology in sidewalk kiosks, I imagined a future where urban infrastructure could become a human-friendly part of a city's streetscape. The kiosks themselves contained sensors that would allow anyone to wave and hail a vehicle. Screens on the kiosks themselves could provide more precise information or advanced requests. Kiosks also become opportunities for seating, shading and illumination — combining several urban infrastructure elements into one minimal design.

Because this system exists on the street, it is inherently open to all. A combination of public and private autonomous vehicle fleets could be integrated. An expanded range of kiosk designs allows it to accommodate a range of street conditions in Melbourne, matched to vehicle availability and user demand.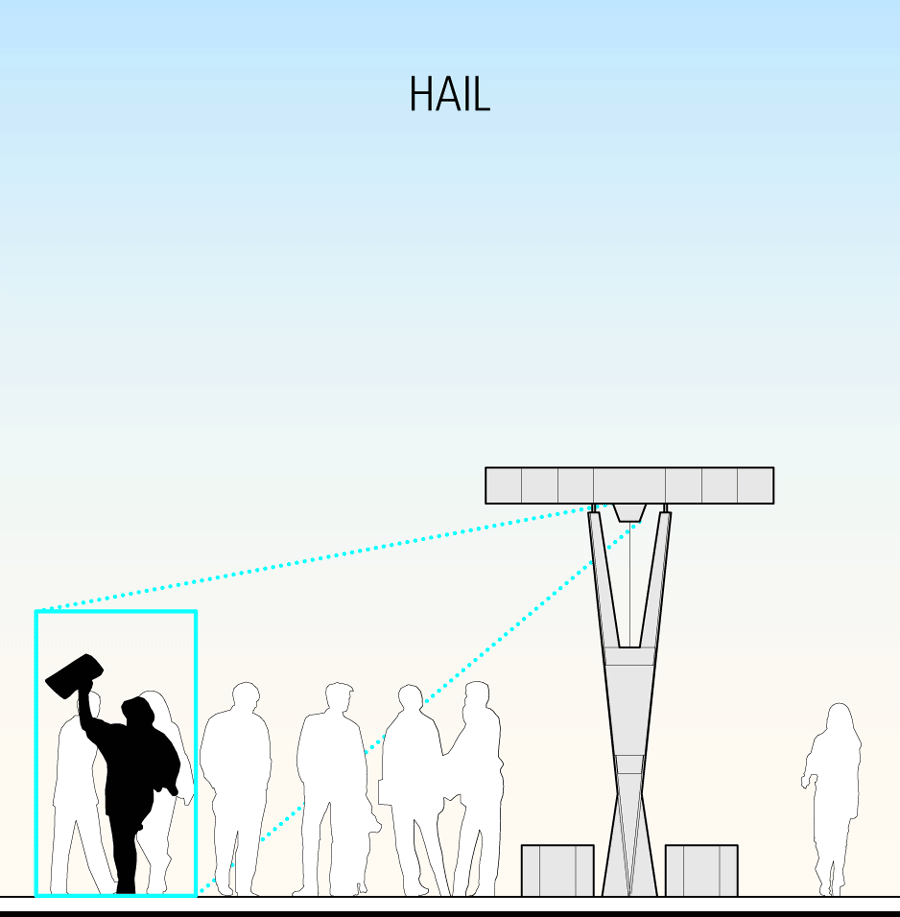 Human-computer interaction in the city
A choreographed series of interactions allow users to understand that the system has registered their request for a ride, supported by information displayed on screens.

Initial animations for the kiosk interface demonstrate the look-and-feel of the system in the city. I also prototyped some of the technologies involved, leveraging a Kinect's computer vision package to demonstrate the feasibility of sensor-driven ride hailing.





---
Still curious? Check out some of my other work: